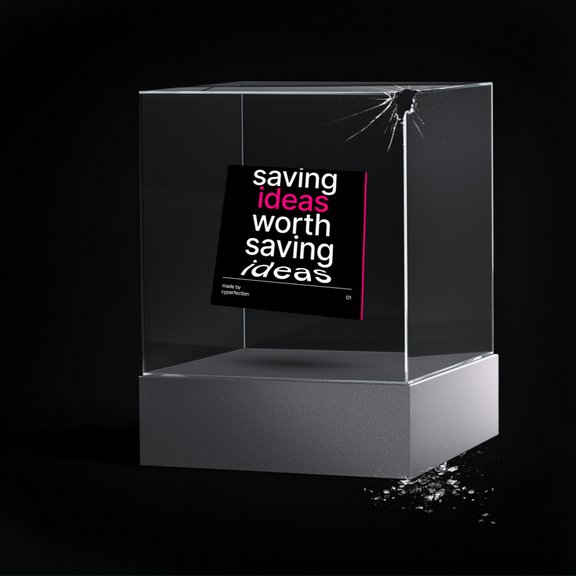 As the first digital agency worldwide: Our campaigns as NFTs
Campaign ideas with great potential for the market and customers, but which unfortunately do not come to fruition: The starting point of our "ideas worth saving" initiative. How can such creative ideas be realized after all? We are the first agency in the world to use NFTs for this purpose. A disruption of the agency industry's distribution channel.
Gerald Merkel
cyperfection
29. October 2021
Reading time: 3 min
Every year, numerous agency heads create great campaign ideas. Many of them ultimately end up in the digital wastebasket - for reasons that are often beyond their control. That's exactly what we want to change with "ideas worth saving". After all, a lot of time, effort and work goes into such concepts - and the fact that they end up in the bin doesn't automatically mean that they wouldn't have worked on the market after all. That's why we are now the first digital agency in the world to offer a selection of our ideas as Non-Fungible Tokens (NFTs). Where: Via OpenSea, one of the largest NFT trading platforms.
Tokens are unique digital assets that can be auctioned off using cryptocurrencies like Ether - and there are almost no limits to what can be auctioned off as NFTs: Paintings, memes or virtual trading cards ... So why not good ideas?
Fresh distribution channel, high quality, customized individually
With this initiative, we are not only the first digital agency in the world to make our expertise accessible to everyone, but we are also revolutionizing the distribution process in the creative industry. Whereas until now concepts or campaigns were usually only created on request, with our "ideas worth saving" potential customers see beforehand what they will get. We invite them on a kind of window shopping tour, where they can look at everything at their leisure and consider whether there is something suitable for them. Of course, our NFTs are not "off the shelf" goods: Each NFT includes an individual adaptation of the creative route for the buyer - the difference to the usual work process between agency and client lies in the sales process - the quality is as high as usual.
In addition to "ideas worth saving", we will soon also offer "creative business solutions" on OpenSea: Social Media Starter Packages, for example, which equip companies with all the essential basics. You can discover the whole collection at cyperfection.de/nft.