We love a challenge
From strategy to full 360 campaigns and beyond, we partner with you to create the perfect mix featuring just what you need to optimize your communication and reach your goals. For example….
I want to create a stronger connection to the right audience
Great, let's get to work. We'll become obsessed with your brand, understanding your assignment from the inside out. Together, we'll expand the why and uncover the where, when and how. By digging into the dimensions of your exact business, users and brand, we'll construct a plan to help create authentic connections. Great, let's get to work. We'll become obsessed with your brand, understanding your assignment from the inside out.
I want to evolve my branding to play better in a digital landscape
You're not talking about a revolution, but just need to make sure you look as good online as well as off? Great. We know screens, and we'll pack purpose into every pixel as we work towards reworking your branding to work on every touchpoint seamlessly.
We need modern digital services to fully support our business processes
We got you. Our DNA is digital, and we want to share it with you. For more than 25 years we've lived and breathed online navigating the latest trends and newest technology. We'll help you optimize and thrive, accelerating your brand's growth through technology.
My brand needs to address HCPs as well as patients
You're in luck. Healthcare is our true passion – at the heart of our work since the very beginning. We understand the industry and all the unique challenges and benefits that come with communicating complex topics on sensitive terrain to a variety of audiences. Wether it's a campaign or the content marketing long haul, be it a blog or social media.
I need a new campaign that goes hand in hand with our sales strategy
We don't just break new ground, we're also builders. We're happy to work to take what you have and take it to the next step, creating communication that cuts through the clutter to resonate with the right people. Together, we'll create campaigns that are bold, memorable and actionable.
Hey, I have a different problem...
Simplify? Can do.
Get to know what we specialize in at a glance
Strategy& Consulting
Business Intelligence, Innovation, Trends
Business Strategy
Brand Strategy
Digital & Communication Strategy
IT Strategy
Analytics, KPIs & Reporting
Multi-Channel-Strategy
Target Group Analysis (Personas, Journeys, Touchpoints)
Concept& Creation
Brand Identity & Design
Corporate Design
Logo development
UX Design & Information architecture
UI Design
Digital Products, Services & Platforms
Digital Content, Print & Social Media Content
Motion Graphics, Animations, Video, 2D/3D Illustrations
Copywriting
Customer Journey
Digital& Optimization
Technical conception & strategy
Development backend & frontend
Database development
Custom programming
Agile development processes
Web Hosting
Tracking & monitoring
Support
E-Learning Platforms
Trainings
Marketing& Campaigning
Campaign development
Photo shoot concept and supervision
Content marketing
Social media marketing
Keyword analysis, optimization and generation
SEM und SEO
Social moderation
Marketing strategies
Cooperation with media agencies
Healthcare
Integrated healthcare communication
Healthcare professional communication
Patient communication & patient-centricity
Field Service & Sales Support
Pharmacutical compliant community management
Digital Health & DiGA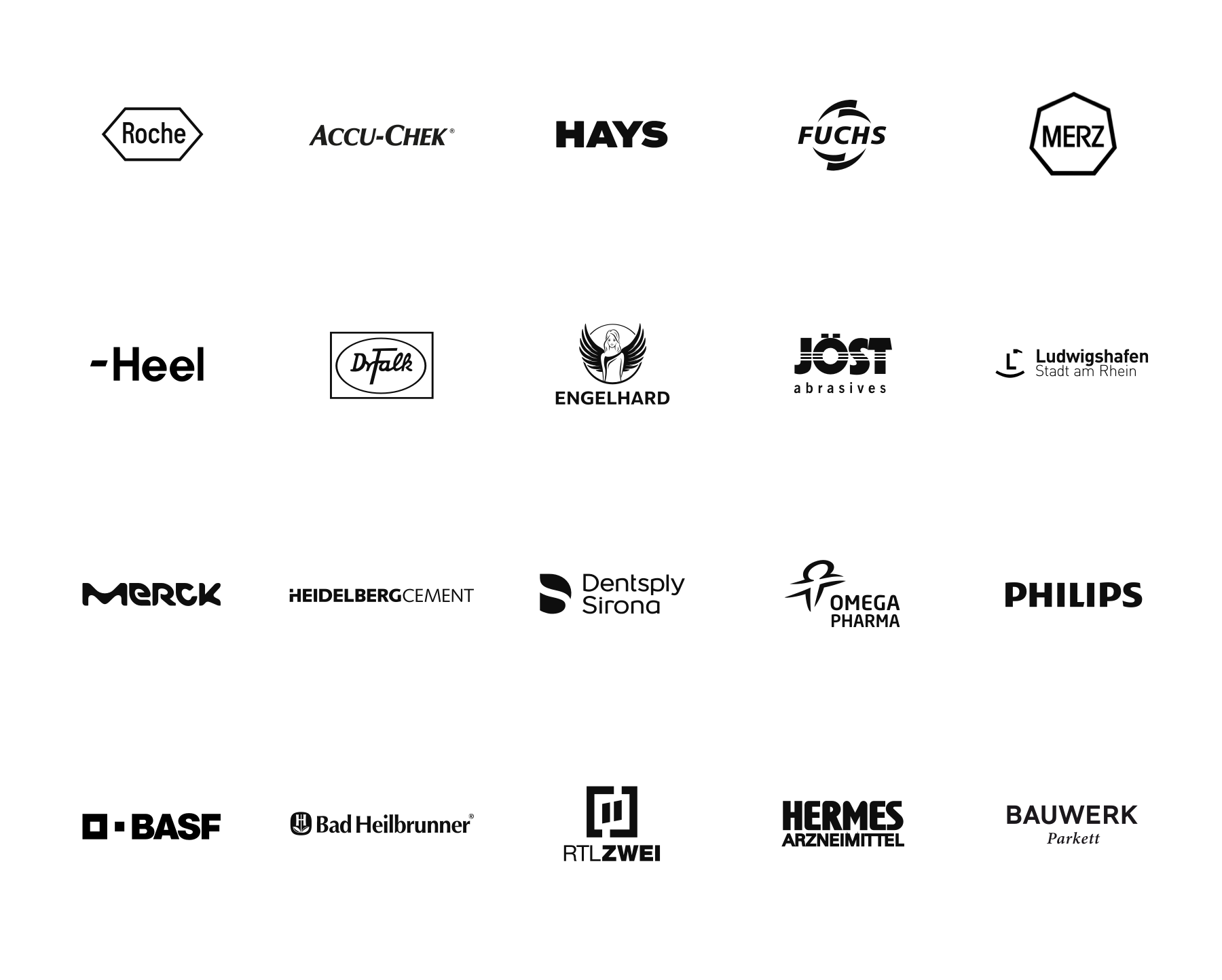 Clients
From healthcare to popstars and back, we are passionate about finding exactly the right solution to help our partners thrive.
Have a look