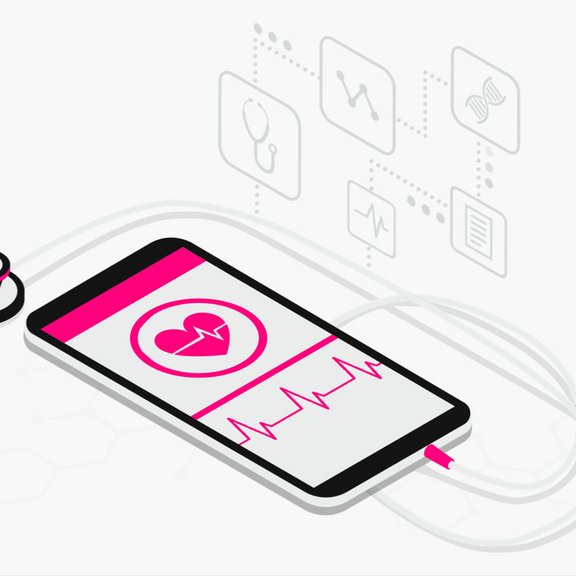 Importance of digital transformation for pharma & healthcare communication
Even though the chemical & pharmaceutical industry only occupies a mid-table position in the "DIGITAL 2017 Business Index" of the German Federal Ministry of Economics and Technology, digitalization is no longer a foreign word for pharma. What role does communication play in the digital transformation process of companies?
Georgios Manolidis
cyperfection
10. June 2021
Reading time: 7 min
Communication is THE big driver for digital transformation in companies - especially in the pharmaceutical industry with its products that often require explanation. Today, customers need and expect individual and fast solutions with which they can communicate all relevant information about their products and services. The pivotal point is always the patient. In order to pick up the patient in a beneficial way within the framework of patient-centric communication, healthcare companies must position themselves accordingly in order to be able to provide the necessary infrastructure/tools as well as suitable platforms and useful content.
In what way is the role of pharmaceutical communication changing in the course of digitization - both internally and externally?
First and foremost, digitization is changing the way companies interact externally with their customers. In short, pharmaceutical communication must be relevant to the customer or patient. Only then will it be perceived. To achieve this, measures must always address specific challenges or problems of users and reach them wherever they are - whether at home on a PC or on the move on a smartphone. To do this, companies should first take a closer look at their customers and analyze what keeps them busy, how they search for and use content, and how they can be motivated. The insights gained should then be incorporated into a communications strategy that dovetails all channels, devices, and touchpoints in a way that creates value. In addition, pharmaceutical communication should always take into account the requirements of different stakeholders (doctor/pharmacy/patient) and combine them in a targeted manner.

However, digitization also has an impact on internal communication processes. Thus, it is necessary to tear down silos of thinking and competence and to connect all departments and customer touchpoints in the company with each other and to generate a continuous exchange - from the call center to the R&D department. Only when everyone is informed about the activities of the others can synergies be exploited.
Which instruments and strategies are currently being primarily used here and promise the greatest success?

Content marketing and closed-loop marketing strategies are currently the focus of interest. Marketing automation and performance marketing are also on everyone's lips.
However, there are no 'one size fits all' solutions. Digital strategies, in particular, must be tailored to the individual requirements of each company. On the one hand, this requires in-depth knowledge of the target groups and their communication habits. Secondly, all relevant aspects that affect the business and the brand must be included in the strategy - from the brand promise to the business model. Furthermore, it must be clearly defined how the individual instruments of the strategy are interlinked. Only then can the greatest possible success be achieved.

And to what extent is pharmaceutical communication itself changing as a result of digitization?

Digitization is making it much more transparent, dialog-heavy, granular and faster - in some cases it is even taking place in real time. Companies and agencies must face up to this change and offer solutions in terms of both content and organizational structure. In our experience, social media communication, for example, is a major challenge: healthcare companies often have difficulties implementing direct dialog with patients because internal processes have not yet been adapted to this.
In addition, e-learning tools and platforms, for example, offer unprecedented opportunities to train patients and healthcare professionals, thereby making the parties involved equal partners in the therapy.

Is communications capable of driving the digitization of the industry forward on its part?

Absolutely. Communication ultimately functions as a link between companies and their customers. Target groups are becoming more and more digital - companies have to follow. Be it with therapy-supporting apps, the use of Big Data for digital coaching programs, e-learning tools or other services. Communication is much more than advertising and PR - healthcare companies are increasingly developing into holistic service providers for everything to do with health - the drivers of this development are the new challenges, but also the potential of digitalization.

Your tip for companies: What rules do pharmaceutical communications follow in a digitally networked world?

As in other industries, the same applies to pharmaceutical companies: Communication measures must be questioned again and again and continuously adapted and optimized to the changing framework conditions. The maxim is: listen to people, recognize their personal challenges and offer solutions.
Companies should look for professional partners to support them in the digital transformation process. Together with them, creative ideas should be developed and value-adding communication solutions realized.

About the author
Georgios Manolidis
Georgios Manolidis has been the managing partner of the digital agency cyperfection for 21 years. In addition to its headquarters in Ludwigshafen, the agency has also had a strategy hub in Berlin since mid-2017. With his team of over 40, Georgios Manolidis advises companies such as Roche, Merck and Philips in all areas of digital communication strategy and brand staging. He contributes his experience in the field of digital healthcare communication through many years of project experience, various publications and, among other things, as a jury member of the COMPRIX Awards.