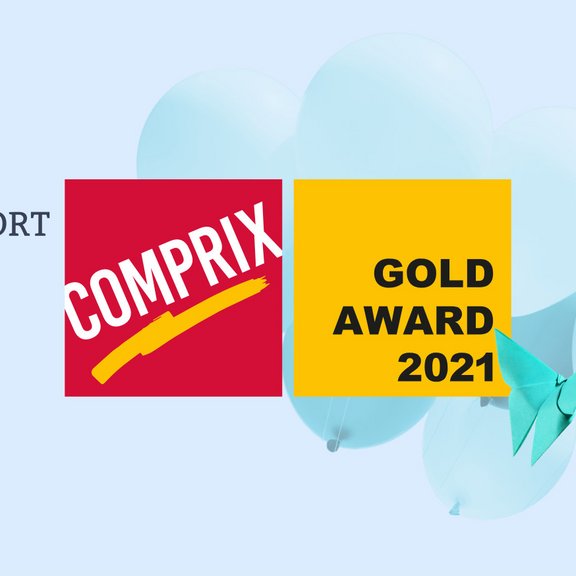 Gold for cyperfection & Roche Pharma
COMPRIX Gold goes to: cyperfection - with our case "Das K Wort - from content hub to first point of contact on the topic of cancer" for Roche Pharma AG. The starting point was the strategic goal of getting closer to the vision of establishing THE No. 1 oncology patient platform.
Gerald Merkel
cyperfection
14. September 2021
Reading time: 3 min
With this year's award, we were able to shine in a digital category at the renowned healthcare competition for the sixth time. And it wasn't just us who were celebrating - Roche Pharma is also delighted with the award: "After the smooth collaboration with cyperfection and the successful repositioning of Das K Wort, the COMPRIX Award puts the crown on it all. We are very happy about this award!" - says Susann Peters, Senior Patient Partnership Manager Oncology, Roche Pharma AG.
Strategy, concept, realignment and awareness campaign, right through to technical implementation - the ambitious and holistic project convinced the jury of the coveted healthcare award across the board. We are appropriately and, in our opinion, deservedly pleased about the gold award in the category "Integrated campaign digital - patients / end consumers".
The basic strategy was to consolidate the existing Roche awareness websites for the indication cancer on the central platform "Das K Wort" - and thus increase the overall visibility, while minimizing content cannibalization and leveraging synergies. This meant an exciting challenge in terms of UX/UI, SEO, an intelligent search as a central component of the platform and a content strategy. The intuitive usability and modern design invite affected persons and relatives to discover the valuable information and services on the website - and to be inspired on any topic related to everyday life with cancer.
This was accompanied by an awareness campaign that played via Facebook, Instagram, Google Search Ads and Native Ads. The focus was on the central philosophy and benefit of Das K Wort: "Cancer raises questions. We help find answers."
About the COMPRIX Award
The COMPRIX Award is one of the most important healthcare awards in the German-speaking world and will be presented for the 29th time in 2021. Awards are given for creative campaigns, advertisements, radio and TV spots, online, multimedia and other communication measures in the healthcare sector.